---
Help the Center for Rare and Neglected Diseases Fight Rare Disease
https://notredameday.nd.edu/campaigns/boler-parseghian-center-for-rare-and-neglected-diseases-1
 Make a $10.00 donation April 23rd-24th and receive 5 votes to cast.
The total number of votes we receive determines our percentage of a $1 million ND-DAY prize.
Thank you for your continued support!
---
Kasturi Haldar wins 2017 Ganey Award for community-based research
By: JP Shortall
April 13, 2017
Professor Kasturi Haldar has received the 2017 Rodney F. Ganey, Ph.D., Community-Based Research Award for a project that has helped improve rare disease recognition and treatment in northern Indiana. The award is a $5,000 prize presented annually to a regular faculty member at the University of Notre Dame who has completed at least one research project that addresses a need within South Bend or the surrounding area. Haldar is a molecular cell biologist and the Rev. Julius Nieuwland Professor of Biological Sciences and Parsons-Quinn director of the Boler-Parseghian Center for Rare and Neglected Diseases at the University of Notre Dame.
There are currently about 7,000 recognized rare diseases in the United States, and most medical clinicians will encounter only a small fraction of them even after years of practice in the clinic. So what does a clinician do when a patient with a rare disease appears in her clinic? She might reach out to a rare disease specialist or genetic center for support if she has easy access to either of those. They could provide her with the clinical spectrum of related rare diseases to review and compare with her patient's symptomatology. But clinicians have demanding schedules and often no ready access to this kind of external support.
In northern Indiana, clinicians have long had to seek support for rare disease identification and diagnosis from Riley Children's Health or Indiana University Health in Indianapolis. Because those facilities are distant and often busy, accessing them can be time-consuming, and the key to treatment of any disease is accurate and timely diagnosis and management.
So in 2015-16, a team led by Dr. Kasturi Haldar, director of the Boler-Parseghian Center for Rare and Neglected Diseases (CRND) at the University of Notre Dame, applied for and received a Ganey Collaborative Community-Based Research Seed Grant for a project to improve rare disease management and treatment locally. The grant helped her and her team partner with advanced pre-med students, local pediatricians, and families of rare disease patients, as well the National Organization of Rare Diseases, the Michiana Health Information Network, and CRND to create a knowledge base and analytic framework for rare disease recognition right here in northern Indiana.
Using the combined resources of this partnership, Haldar and her team have developed a program that trains upper level pre-med students to evaluate rare disease patient medical records and help produce natural histories of disease. They then provide a local pediatric clinic with tools to strengthen the clinical context to manage and treat children with rare genetic disorders, empowering them with the most current data. This decreases the time to proper diagnostic understanding and the establishment of a clear course of treatment. The project also empowers patient families by providing clinicians with up to date information on centers of excellence and other resources that they share with patients. At the Annual Notre Dame Rare Disease Day Conference every February, students also partner with patients to present poster and community-based patient talks.
The project has clearly impacted pediatric health care for rare disease cases in northern Indiana, but its impact has also gone beyond the region. In 2015-16, Haldar's team produced a case report of an unusual occurrence of neurofibromatosis (NF1), a rare genetic neurologic disorder. The report, "Aggressive Tibial Pseudarthrosis as Primary Symptom in Infant with Neurofibromatosis, which suggests need for modification of federal guidelines for NF1 diagnosis," has now been published by Cold Spring Harbor Laboratory's bioRxiv, where it will be available for review by the scientific community.
Contact: JP Shortall, [email protected]
---
RareND Team builds ZEBRA, award winning app in Notre Dame App Challenge and goal for Precision Medicine!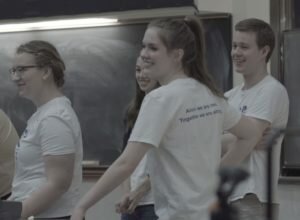 "When you hear hoof beats, think of horses not zebras" was how Dr. Theodore Woodward at the University of Maryland counseled medical interns in 1940s.  But the best of medicine today seeks the zebra in all of us. This is the goal of 'Precision Medicine', where we leave behind the 'average' patient and instead focus on individual differences in genes and other molecular determinants, as well as the impact of environment and life style, to understand a patient's disease and how to treat it.
Precision Medicine is a revolution in health care. It seeks the zebra because it looks for what makes you unique. This is the rare disease model. In a rare disease, every patient unique. This is why the individual patient is at the center of rare disease treatment, empowered to collaborate to fund research and share their complex biological and health data in a network of doctors, patients and advocates, in search of transformative outcomes.
Congratulations to Anna Volk, Will Langbo, Kim Trouch, and Katherine Inskeep for an important advocacy tool for patient-centered medicine and winning 3rd place in the first ND App Challenge!
The ND App Challenge was sponsored by the Office of the Executive Vice President, and organized by SAP, Innovation Park at Notre Dame and the Office of Information Technologies.  In the challenge, over 70 teams from across Notre Dame created mobile apps responsive to President Rev. John I. Jenkins, C.S.C. call to action "I now ask all of you to join me in supporting these collaborative efforts to advance our vision of Notre Dame as a powerful force to heal, unify and enlighten our world."
---

February 3rd & 4th, 2017

NKH Focus Group Event 2016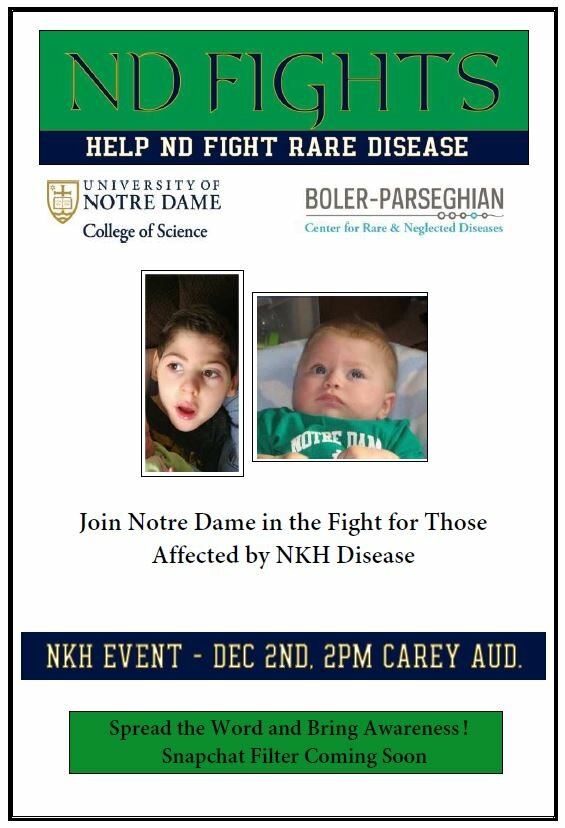 NKH FOCUS GROUP WITH ND STUDENTS
Thanks to the Sarbs and Fitzpatricks for speaking with the students on Friday about Notre Dame and NKH research. Students have a better understanding of the affect that NKH disease has on patients and families. They worked on ways to raise awareness through social media and developed a facebook page to advertise this event. Good Job ND students!
Thank you to Pat and Lynda for sharing their story of the Sarb's long standing history with Notre Dame starting with Father Sorin and now working with Dr. Haldar and CRND staff on NKH research.
Mary and John Fitzpatrick were gracious to share their family experiences with caring for a child with NKH and how they are raising funds for research through "Fiona and Friends" through the sale of wristbands $3 each and all proceeds go to this fund for NKH Research.