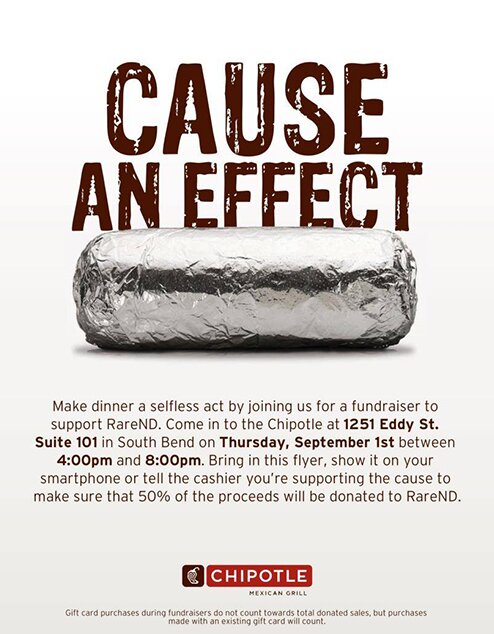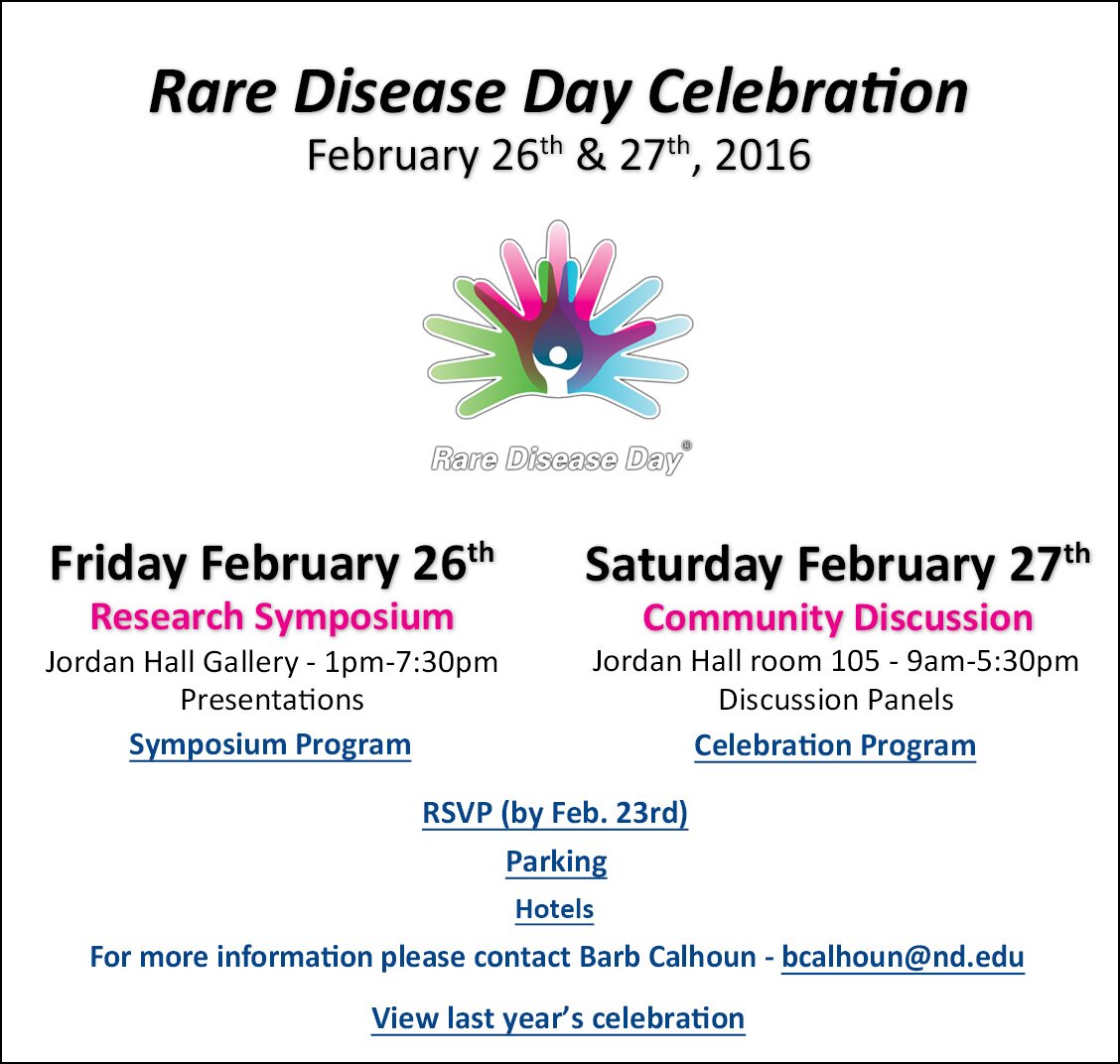 The University of Notre Dame invites you !
Rare Disease Day Celebration
 Friday & Saturday February 26 & 27, 2016.
All are welcome to attend! Please scroll down to
view the agendas for both days!  
For more information go to https://www3.nd.edu/~crnd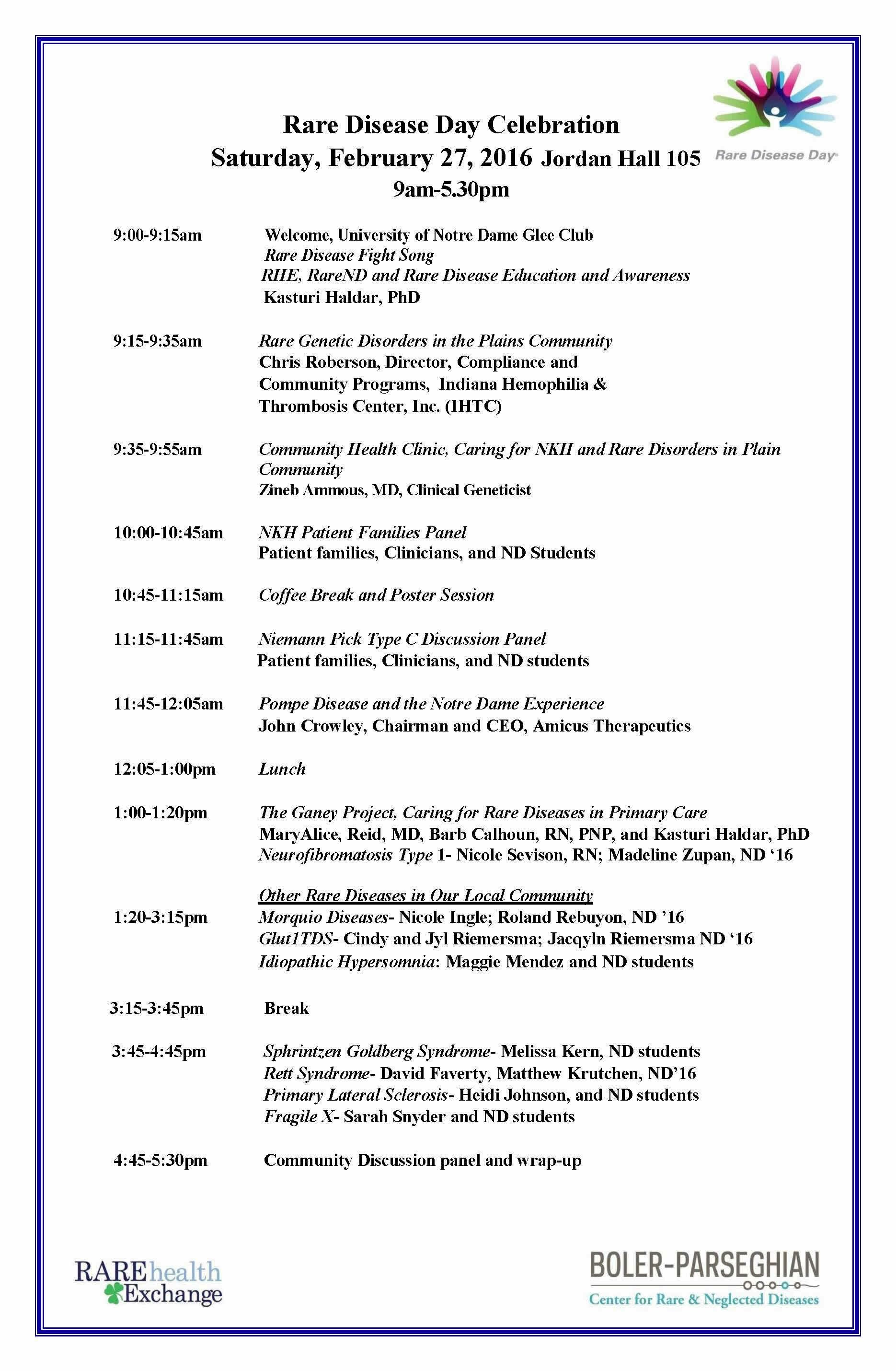 CRND Celebrates Rare Disease Day 2015
By: Jayme Russell
The Boler-Parseghian Center for Rare and Neglected Diseases recently held a two-day Rare Disease Symposium (February 13-14) and invited researchers, patients, families, physicians, and advocacy groups to speak about their personal experiences with rare diseases. The symposium anticipated Rare Disease Day, recognized worldwide on the last day of February.
Organized by Barbara Calhoun, nurse practitioner and outreach coordinator for the Boler-Parseghian Center, the event featured research presentations as well as discussion panels focused on patient experiences. Because there are roughly 7,000 rare diseases, diagnosis usually takes about 5-7 years and treatments are uncommon or even nonexistent. These diseases are emotionally hard to cope with, so it is important for patients and families to find others who struggle with the same illnesses for support.
THANKS to everyone that participated!

We have changed our name!!

Thank you to the Boler and Parseghian families' for their generous contributions to support rare and neglected disease research!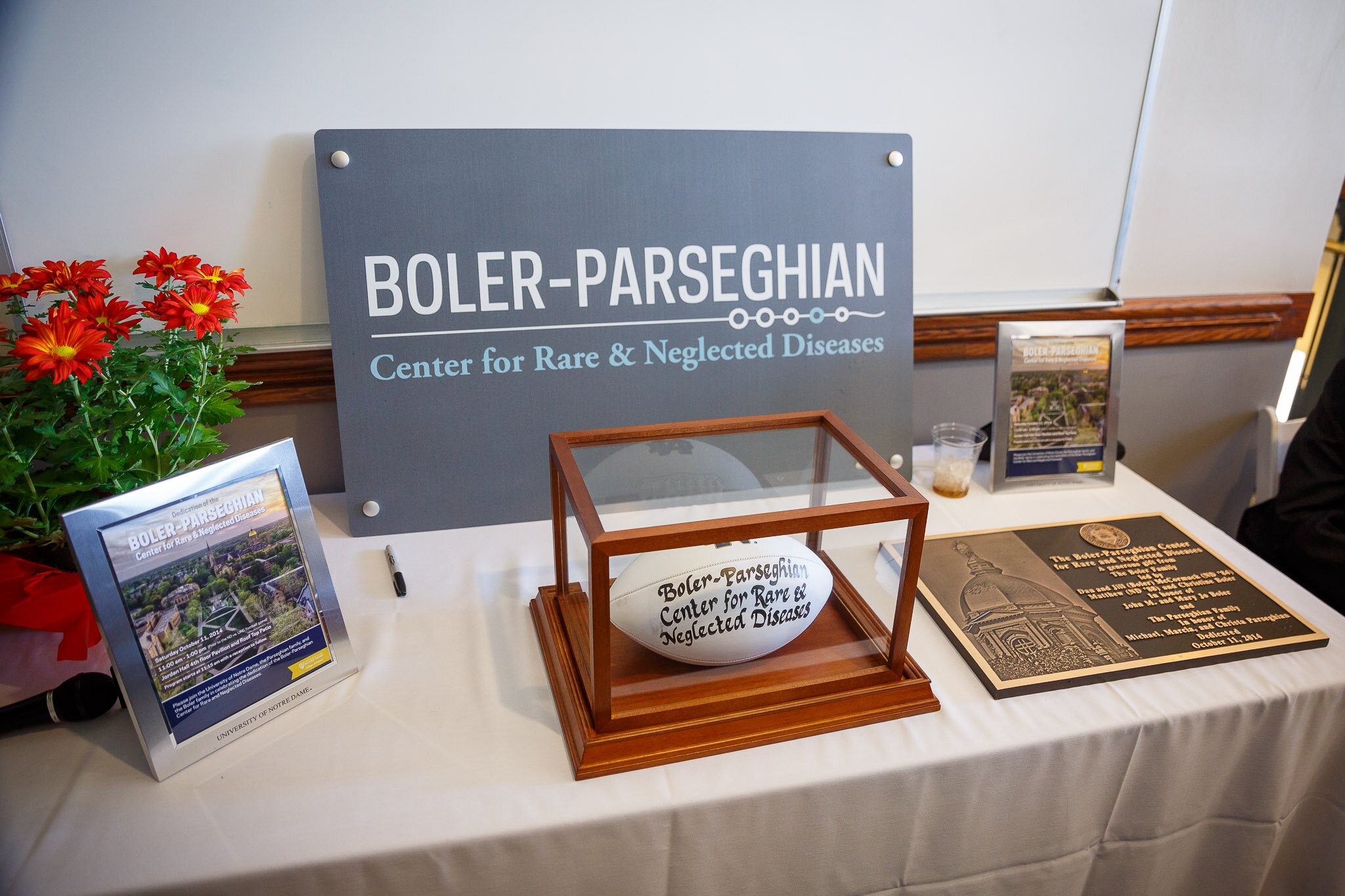 World Rare Disease Day Celebration 2014


Notre Dame celebrates World Rare Disease Day
Published: February 24, 2014
Author: Stephanie Healey
The Center for Rare and Neglected Diseases (CRND) and the Rare Health Exchange (RHE) celebrated World Rare Disease Day on Saturday, Feb. 15 at the Notre Dame Conference Center.  World Rare Disease Day is a global event that was first launched in 2008 to raise awareness among the general public and decision-makers about rare diseases and their impact on patients' lives.
"We began celebrating rare disease day in 2009," said Shahir Rizk, director of external programs for the CRND and research assistant professor of biological sciences. "Last year, we tried out the public forum format and found it to be well received. It gives Notre Dame a chance to be engaged with the local community and to provide a forum for rare disease patients and families to interact with researchers, physicians and students." The daylong symposium was dedicated in memory of Tylor White-Richardson and Riley Smith, two patients who recently passed away from Niemann-Pick Type C (NPC) disease, a rare cholesterol storage disorder that affects approximately one in 100,000 people.
Elizabeth Berry-Kravis '79, M.D., Ph.D., professor of pediatrics, neurology, and biochemistry at Rush University Medical Center in Chicago, participated in a panel about experimental drug treatments.  She works with families whose children have NPC. Berry-Kravis explained that for many years, the only option for NPC treatment was to provide supportive care to help alleviate the symptoms, but "thanks to the Parseghian Foundation, there has been a significant increase in NPC research in the last 20 years."

Berry-Kravis was able to get approval from the FDA through the Investigative New Drug (IND) Program to provide an experimental treatment for her patients using cyclodextrin, a small molecule therapy, which is also being tested at other clinical sites.  "These diseases have ups and downs so you need to look at trends over time, but we are seeing early subtle, but promising results," said Berry-Kravis.

Several attendees shared their experiences in open forum focused on living with rare diseases.  Coley Mrozcek shared his experience with X-Linked Hypophosphatemia (XLH), a disease that disrupts the assimilation of vitamin D and phosphorus in his body and causes bone malformation. His mother, three siblings, and daughter all have XLH.  "It is different being a patient of XLH, and having a child with it," Mrozcek explained. "My daughter is 12 years old. She has difficulty running because of the way her legs have formed and other children are starting to notice. A better form of treatment is a priority for me and the way the research is going is encouraging for me as a parent."
Cindy Riemersma came with her 21 year old daughter, Jyl, who was diagnosed with Glucose Transporter Deficiency Syndrome at the age of four. Jyl was only the 15th person in the world diagnosed with the syndrome. There are now more than 250 people diagnosed worldwide, indicating the importance of diagnosis.
A major theme that emerged from the discussion was that all of the patients and families present had taken ownership of their situations and worked tirelessly to get the answers and treatments they needed because information and resources are much more limited with rare diseases. Muriel Finkel of the Amylodosis Support Groups Inc., a member of the National Organization of Rare Diseases, stressed the importance of service organizations that cater to specific rare diseases. These organizations can help connect patients to resources, such as treatment options, counseling and other patient families.

The second half of the day included a poster session and research presentations from Notre Dame students and faculty.  ESTEEM students Bianca Fox and Yuan Gao described the RHE program, a collaboration of students and patient families working together to develop a database to help rare disease patients and their caregivers.  Over the last five years, many families including the White-Richardson and Smith families have visited with Notre Dame students and faculty to help develop the RHE.
Four Notre Dame researchers discussed their work on various lysosomal storage diseases. Shaun Lee, assistant professor of biological sciences, and Tony Serianni, professor of chemistry and biochemistry, described their research collaboration on Sanfilippo syndrome, a disease which prohibits an enzyme from properly breaking down complex sugars. In addition to developing new therapies, their work also helps predict whether a patient will respond to two major types of treatments that are currently being developed for this disease.  Md Suhail Alam, a postdoctoral associate in biological sciences who works with Kasturi Haldar, the Rev. Julius Nieuwland, C.S.C. Professor of Biological Sciences and James C. Parsons and Carrie Ann Quinn Director of the Center for Rare and Neglected Diseases, reported on the first plasma biomarker for neurodegeneration that can be used to monitor whether NPC patients on a therapy are improving in brain disease. Olaf Wiest, professor of chemistry and biochemistry, discussed how he uses powerful computers to find FDA-approved drugs that can be repurposed to treat rare diseases like NPC.

The second research session focused on rare cancers, which are often difficult to diagnose and have a poor prognosis. Başar Bilgiçer, assistant professor of chemical & biomolecular engineering and concurrent assistant professor of chemistry and biochemistry, described his work on developing nanoparticles to target multiple myeloma and Laurie Littlepage, Campbell Family Assistant Professor of Cancer Research, explained how her work is trying to compare the biology of a rare breast cancer that affects Kenyan women with cancers found in North America. In addition, Cassandra Buchheit, a graduate student in biological sciences who works with Zachary Schafer, Coleman Assistant Professor of Cancer Biology, spoke about her work with a rare inflammatory breast cancer that is often misdiagnosed as an infection.
Mike Hamerlik, CEO of WPS Health Insurance joined one of the patient family representatives to explain how new health insurance laws will impact rare disease patients. This panel was particularly informative to the families who have traditionally had few options when it comes to health insurance.
To conclude the seminar, the group completed a rare disease quiz prepared by the newly minted RareND club, which reminded the audience how much still needs to be done to raise awareness for rare diseases.  They also sang a new version of the Notre Dame fight song to rally the fight against rare diseases.
Please visit our 2014 RDD Photo Gallery
__________________________
Riley Smith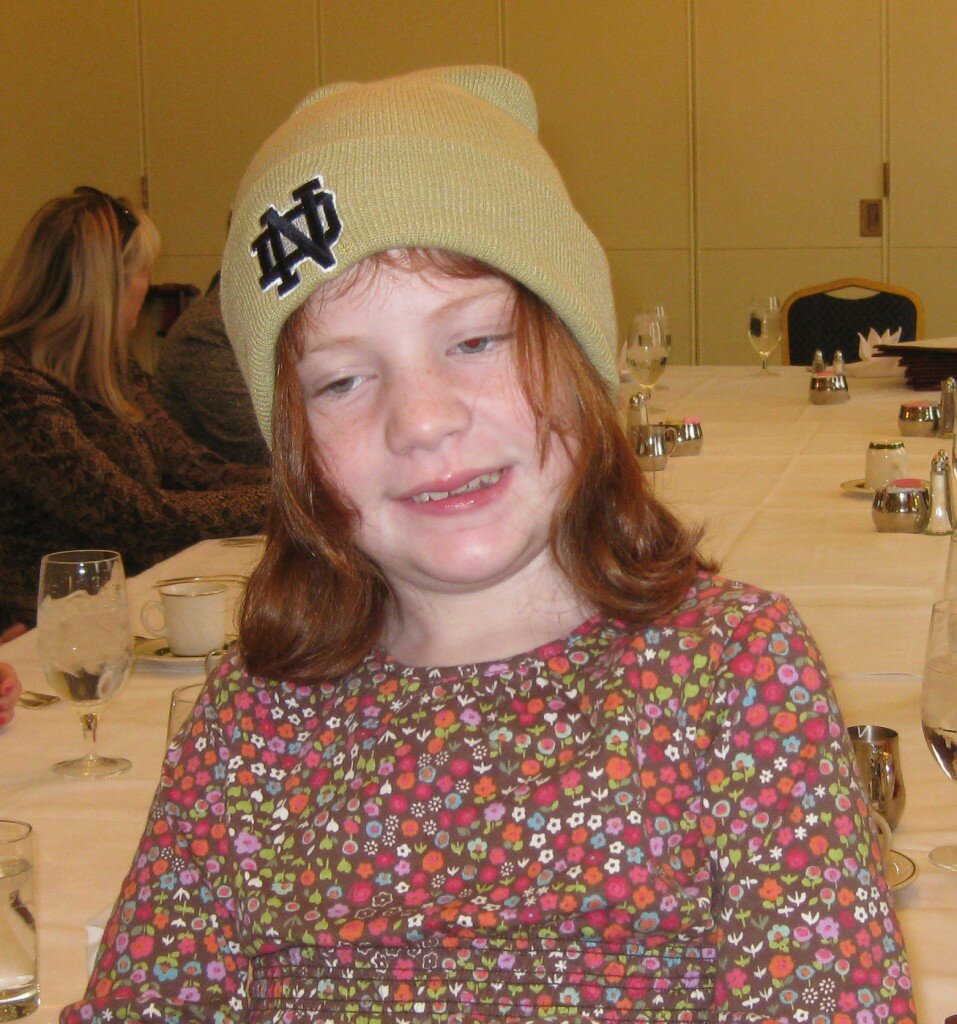 It is with a heavy heart that we let you know that Riley Smith, daughter of Trent and Julie Smith, passed away, January 19th after a brave battle with Niemann-Pick Disease, Type C. Riley and her family represented many individuals with the disease and helped raise awareness and funds. They also helped Notre Dame start developing undergraduate studies on rare diseases and collaborative programs like Rare Health Exchange. Riley loved sports and her strength and perseverance were always inspirational to us at ND.
Riley's father currently has a fundraising challenge to support Coach Matt Painter of Purdue Men's Basketball in the Infiniti Coaches' Charity Challenge.
Here is how you can help: we ask all of you to please vote for Coach Painter in memory of Riley. There are is not much time left to help him win 100K for NPC research (he is currently ranked 3rd).    http://promo.espn.go.com/espn/contests/infiniti/2014/
You can also view here a short version of the video CRND made with the Smith family in 2011. Filmed at the University of Notre Dame by Liz Hodge (Foundation for Biomedical Research), SurvivorTales: Niemann-Pick Type C tells the story of Riley Smith and her brother Keaton Smith suffering from a rare and fatal genetic disease and research that could save their lives. It stars the Smith Family, Drs. Kasturi Haldar and Cindy Parseghian. The show won a Telly Award in 2011
If you wish to see the full version please email plingle@nd.edu
------------------------------------------------------------------------
Tylor White-Richardson
(9/11/1996 - 12/12/2013)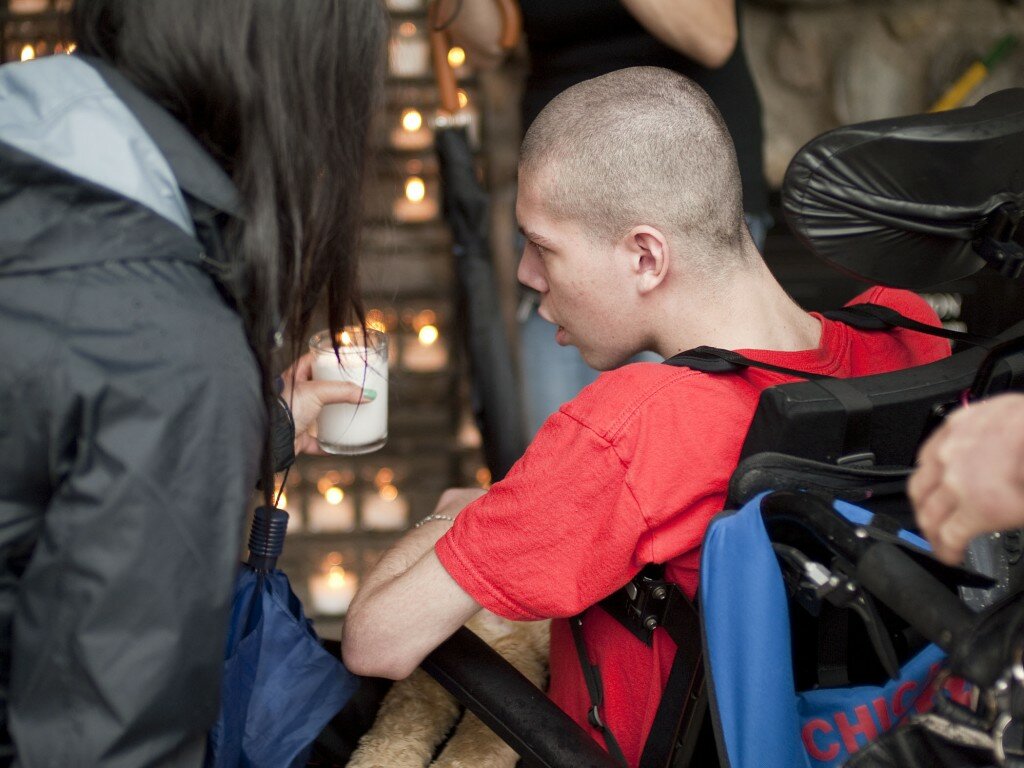 On December 12th, 2013, Tylor White-Richardson passed away after a brave battle with Niemann-Pick Type C (NP-C) disease. Tylor was a budding ball player till he was struck by symptoms that took six years to diagnose as NP-C http://fight4tylor.blogspot.com.  He and his family represented many individuals with the disease and helped raise awareness and funds. Tylor and his family helped Notre Dame undergraduates better understand NP-C from a patient perspective and learning the challenges of having a rare disease. His outgoing personality and sense of humor helped all of us at CRND to see the importance of seeking treatments no matter the challenge. Our thoughts and prayers go out to Tylor's family in this difficult time.
In remembrance of Ty's life please feel free to post caring memories. Please click here
-----------------------------------------------------------------------
Rare Disease Fight Song by Dr Shaun Lee and Band from Notre Dame's Rare Disease Day 2013!
Mission Statement
RAREhealth Exchange is an undergraduate collaborative that assists clinicians, patient services organizations and researchers to define natural histories of rare diseases. We do this by helping assess and score rare disease patient medical records. Here is a link to our PLoS One paper on how undergraduate students can help with defining natural histories.Natural histories are important because they define what a disease is. They are also used to determine whether experimental therapies are working. Rare disease patient medical records are an invaluable source of natural history but remain under-utilized due to insufficient resources.
About Us
Over the course of a one semester (10 week) class juniors and seniors in premedical and science tracks at the University of Notre Dame are trained to become clinical experts in a rare disease. They are also trained in HIPAA and other privacy procedures for protecting patient medical data. The students subsequently assess patient medical records to assist in defining the natural history of a rare disease. We have demonstrated this is feasible in a recent paper, Defining Natural History: Assessment of the Ability of College Students to Aid in Characterizing Clinical Progression of Niemann-Pick Disease, Type C. In a follow up class, we have developed a secure, in-class process by which trained undergraduates assist rare disease patients with the submission of their medical records. For participating families we provide a password protected electronic copy of their entire medical record. We also summarize the patient medical record in a standardized format that allows hundreds of pages of medical records to be condensed in a 2-3 page document that can be easily assessed by a physician in a short visit and thus be helpful to both families and clinicians. All of our work is done in collaboration with clinicians, patients, patient services organizations and researchers. We accept records of current patients as well as those who have passed. We do not release any patient medical records. All of our procedures are reviewed and approved by the University of Notre Dame's Institutional Review Board. If you are a rare disease patient, clinician, student and have a project that trained undergraduates might be able to contribute to, we'd be interested in learning about it. Please contact Marisa Truong (mtruong@nd.edu) to set up a phone appointment.